Amera Trail has a history of building high quality, durable trailers and carts for uses outside the MARINE INDUSTRY
Is your boat supported properly while it is sitting on a boat lift?  Typically, a boat lift has 2 carpeted bunks that supports your hull.  Even if you have a straight bottom hull, it is not flat and undo pressure is transferring to small areas creating pressure points.  If you have a Step Hull sitting on 2 straight bunks, you could be damaging your hull due to the small number of square inches in contact with the bunks.  
An Amera Trail cradle is the answer to protect your hull while your boat is sitting on a lift.  Our cradles are a perfect fit, just like our trailers.  The aluminum cradle easily sits on the cross beams of your lift and is attached using clamps and stainless hardware.  Not only do our cradles support your boat perfectly, they look great.  Give us a call and we will build a perfect fit cradle for your boat.
LOAD, LAUNCH, RELAX!
PATHFINDER BOAT LIFT CRADLE
PATHFINDER BOAT LIFT CRADLE
PERFECT SUPPORT FOR YOUR HULL
EASILY ATTACHES TO YOUR CROSS BARS
PATHFINDER BOAT LIFT CRADLE
BOAT LOGO'S INSTALLED ON EVERY CRADLE
YELLOWFIN 39 OVERSEAS SHIPPING CRADLE
YELLOWFIN 54 BOAT LIFT CRADLE
YELLOWFIN 54 BOAT LIFT CRADLE
YELLOWFIN 54 BOAT LIFT CRADLE
YELLOWFIN 54 BOAT LIFT CRADLE
YELLOWFIN 26 BOAT LIFT CRADLE
YELLOWFIN 26 BOAT LIFT CRADLE
YELLOWFIN 26 BOAT LIFT CRADLE
CLOSE UP OF A PERFECT FIT
CONDENDER 32 ST BOAT LIFT CRADLE
COSTA CAT BOAT LIFT CRADLE
BARKER 26 BOAT LIFT CRADLE
FREEMAN 37 CAT BOAT LIFT CRADLE
FREEMAN 42 BOAT LIFT CRADLE
MARINA CRADLE FOR BARKER 40 CAT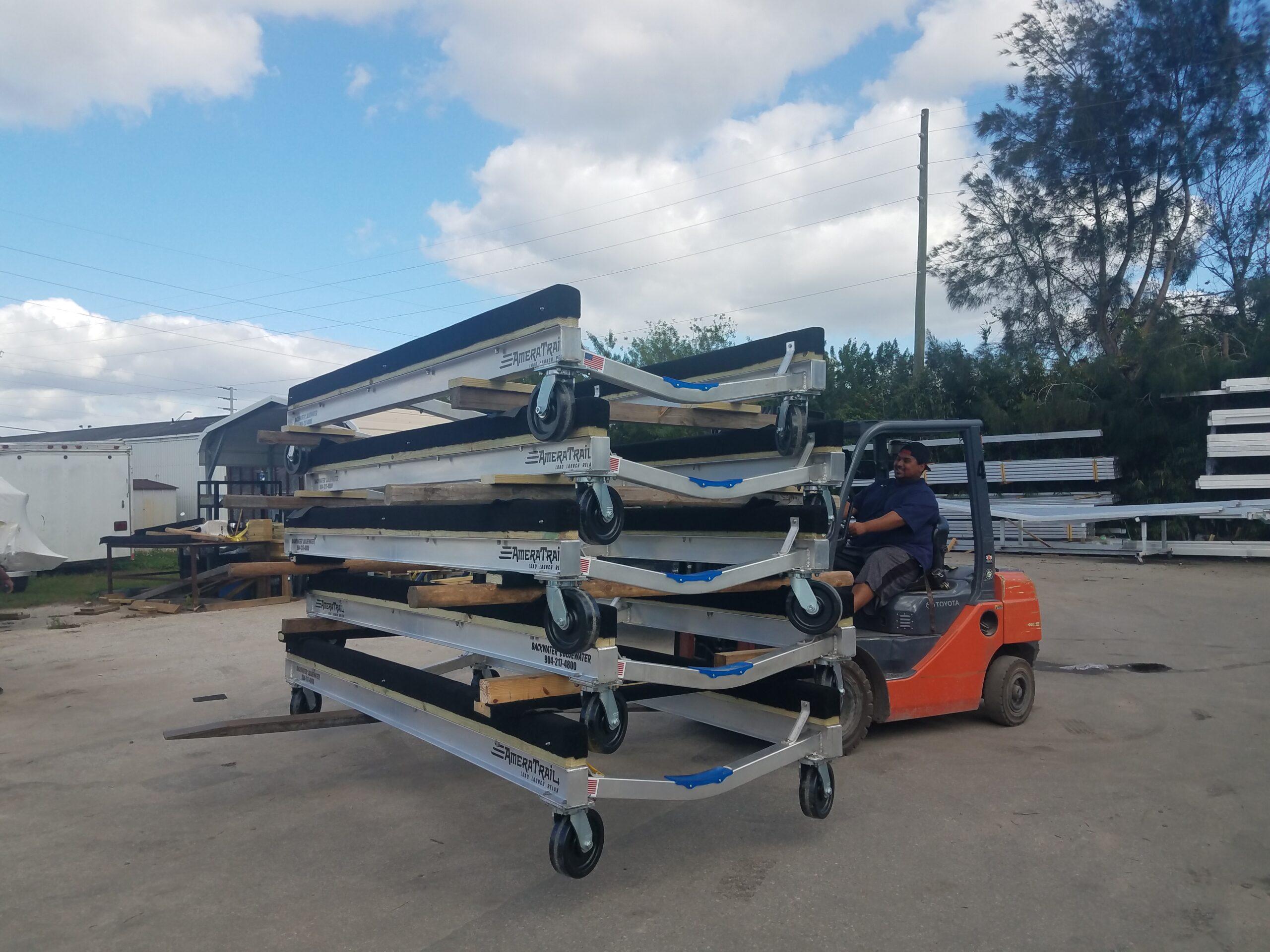 V BOTTOM AND PONTOON CRADLE
SPORTSMAN V BOTTOM AND PONTOON BOAT CRADLE